Adam's Picks

Drastics - Premonition
Chicago DUB massive, released on Jump Up Records in early 2005. Chicago has a fairly vibrant ska/reggae scene with such institutions as Deals Gone Bad (recently celebrating their 10th year) and Chuck Wren's work with his radio show (Sundays on WLUW 88.7 FM). As far as Chicago Dub goes, this might be the only game in town. The Drastics bring it all, riddims locked in with spacey dubs reaching toward the nether regions of the universe.

They even pull it off live with one of them doing the dubs on the fly while the rest plow through these instrumental soulful reggae tunes. The debut, Premonition, features 8 originals as well as two tunes by Tommy McCook (one time member of the Skatalites, and also has guest toasters including Dr. Ring Ding (from Germany) and King Django. This is the real deal, and in my opinion, as good as this gets.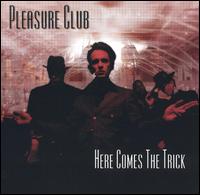 Pleasure Club - Here Comes the Trick
James Hall, guitarist/vocalist/frontman of Pleasure Club, is a rock god. Hailing from Texas, schooled in Kentucky, now residing in New Orleans, Hall has been everywhere in between. He once fronted the early 90s Atlanta based rock outfit Mary My Hope which gathered comparisons to Jane's Addiction, before leaving that and eventually pursuing a more singular vision with two solo albums of rock, soul and a little of everything released under James Hall. The first is supposed to be nearly impossible to find (it's probably in a dozen or so discount bins around the country which is where I first found this record).
The second release, James Hall's Pleasure Club, was released by Geffen but got lost in the shuffle of the major label and subsequently was mostly ignored. He eventually decided to put together another band and here we have Pleasure Club, 4 members in total, 2 of which are from New Orleans, the other 2 from Los Angeles. "Here Comes the Trick" is a rocker, kicking off with sleigh bells and tribalesque back up vocal chants before Hall's vocals lead you right into full steam Pleasure Club "...with permanent solutions and flashes from a gun."
James Hall's moving performances flow from singing to shouting before he does a dance and digs into a waving falsetto all as the band breaks from a straight rock feel into a slinky funky feel. This man sweats soul on every opportunity presented to him, a Saturday evening seems to be the same as a Tuesday in Hall's mind, all of him is dedicated to the presentation. Hall will put it all out there, whether for hundreds in attendance or for the twenty kids that happen to left in the bar. For this man to be ignored is a sin. Don't bother with the new record (Fugitive Kid), it pales in comparison to the rest. I implore you, see Pleasure Club live, no matter where or when, you have to see this. Entertainers like Mr. Hall do not come around very often, we need to appreciate what he is doing night after night.