Hello Down There– 1969
Struggling garage band Harold and the Hang Ups have just had their latest song run through a song analysis computer and told it is 95% groovy. Now all they gotta work on is that other 5%, and they'll have themselves a sure-fire million seller. Record producer Nate Ashbury (Roddy McDowell inna far-out Nehru jacket) tells them to come back when they do. Hi-jinks ensue when the band is forced to move to an underwater house built by dad Tony Randall. Uber-cool Dad that he is, he promises the kids the acoustics are perfect for them to create the magic they need to impress that darn computer. And though the evilness inherent in this all-knowing musicomputer is not really highlighted (the band wants nothing more than to please it) it's quite obvious that what once was a fanciful plot point has now frighteningly become a current tool in the creation of todays latest "hits".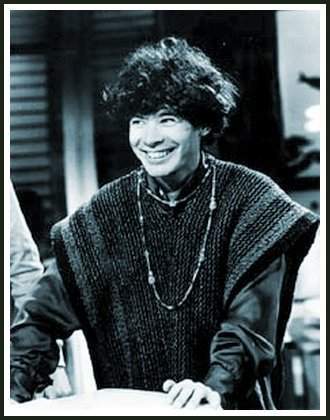 Seriously, I can see Finger Eleven now working their balls off to get that final 5%. As for the movie, the producers hired Jeff Barry to do the music this particular band performs. With song credits ranging from "Da Doo Ron Ron" and "Sugar Sugar" to producing artists such as Dusty Springfield and The Monkees, Mr. Barry was more than adept at supplying the movie with some pretty perfect bubblegum pop songs. The organ driving the propulsive "Glub Glub" is nothing short of a whale sized hook, and more than enough reason for someone to finally put out a soundtrack for this forgotten time-capsule of a movie. And though the DVD is letterboxed with drop-dead gorgeous colors (the sets are amazing!) why, oh why isn't it in stereo?! Sure, the mono-mix is clean and bright, but with a movie so filled wall to wall in music and sound effects this is more than disappointing.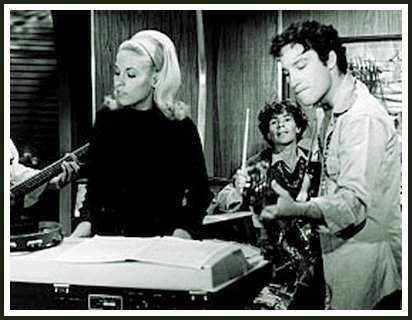 So, you may be asking yourself, besides the most awesome music and sets, what have I got to look forward to when I view Hello Down There? Well, I'll tell you: You'll get to see a pre-Jaws, bass-playing, lip-synching Richard Dreyfuss fight sharks! Mom Janet Leigh "Davy Dancing" as well as finding herself wet and screaming in a sly Psycho reference (just replace the plunging knife with a friendly seal). Boozing housekeeper Charlotte Rae (Facts of Life's Mrs. Garrett) thinking someone slipped acid in her flask when she begins seeing dolphins talk. And finally, the groovy chick keyboard player and zany love bead festooned drummer must be seen by all lovers of 60's kitch. So, if you got some pocket change (this thing is CHEAP!) and any of the above piqued your interest, by all means treat yourself tonight to a heapin' helpin' of Hello Down There.