Thursday, July 14, 2005


Sam @ 2:04:59 AM|


---
Wednesday, July 13, 2005


My Life Resembles a Movie and Now It Has A Sequel

I guess I kinda set myself up for it though. I was playing the record of someone who came in while I was playing the record. Though he reacted well by saying something along the lines of "These guys are good! Who are they?" It would have been worse if I was wearing the t-shirt too. I try not to do that though, play the album of a band whose t-shirt I am wearing. Of course, I try not to wear that band's tshirts too much in Chicago because I have on numerous occasions run into a member (or ex-member) of the band while wearing the shirt. And it's like "duh, I like your band." Come to think of it, it's happened with a few Chicago bands. I guess I should just wear Canadian and UK band shirts.

Still suffering from the cold/flu thing and also a ridiculous swollen side of my left thumb. hmmm. ooh the Decemberists were on Conan tonite and did "We Both Go Down Together". It was super lovely, but I kind of wished they would have played "16 Military Wives" and had horns and crap. Oh well. I get to see them this weekend at the Intonation Fest... 3 days, 8 hours, 19 minutes, and 51 seconds left until the Intonation Music Festival! (According to the thingy on Pitchfork).

Oh man, the Surreal Life was pretty intense. It's kinda funny they found a woman who make Omarosa look like an angel. What is Janice's problem? Man, if Bronson Pinchot was putting the moves on me, I'd be all up ons!!

Sam @ 3:29:00 AM|


---
Tuesday, July 12, 2005


People of the Sky?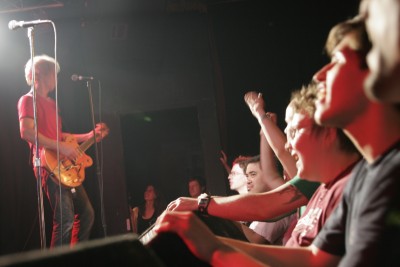 It may have been that song, but it's some Andrew song, and I am the second grinning idiot from the right really enjoying myself. (thanks to gena for sending it and other really amazing pics to the
Sloan Site
... are you the person I met in the Happy Food Spot?)
Sam @ 5:28:24 AM|


---
Sunday, July 10, 2005


Sam @ 11:33:00 PM|


---
I think I have the fucking flu

Which sucks because I had near infinite possibilities for doing fun things, but I didn't feel like going out. So here I am, in PJs drinking Theraflu listening to Magnetic South on vinyl. Gina and I just finished watching the Sloan DVD, so yeah, things could be worse. I think my body is all out of wack. Sigh, I will take it easy tomorrow.

Sam @ 1:31:00 AM|


---
Friday, July 08, 2005


Sloan!
Good good show, except that Jay was sick and barely sang on "The Lines You Amend", otherwise though, such a great set, drawing on all the albums (not only the best of or last 2 albums). It was nice to see them at the kinda small Double Door, but the lighting was not really good for pics. I think that's one thing I love, is that they play everything. sigh.
Sam @ 2:51:00 AM|


---
Thursday, July 07, 2005


oops late post

Woo the fourth of july!

after a few setbacks (thought the ride in the Mustang was cool) Kristina and I finally got on the Metra to Naperville and managed to plop our chairs down in the rain and get our umbrellas up just in time to hear Loretta Lynn sing Coal Miners Daughter. Then I ran into the Caterers (the family, not the uh, you know) and then we finally found Stacy and had some ribs and other food and enjoyed the fireworks. we did NOT go see Umphrey's McGee.

Not much happening here, sooz is away for a few days, but I am going to see SLOOOOOOOOOOOOOOOAN tonite!!! EEEEP!! WOOT! HOORAY!

Sam @ 2:49:08 PM|


---
Saturday, July 02, 2005


The Way That He Sings or the Town that Found its Wilco Supply
Oh, the Louisville adventure. Sooz, Amelia and I headed out Thursday morning. We got there and I was dropped off at the "deluxe accomodations" I was staying at with Brianne and Paul. We went and perused
ear X-tacy
. I give them a million star rating for having a Scott Walker section but keeping them from a billion star rating is the fact that they file Wilco in alt-country. So then we
met up
with even more folks and went and ate at
Lynn's Paradise Cafe
. I had the ham, duh. After food, we made our way to
the show
, and were delayed a little bit after some snafu with the
"VIP seating"
. The show? It was way hot in there, which is one of a few things making it not my favorite ever. Oh well, everyone was pretty friendly afterwards and
I got to "meet" Jim James from MMJ
who opened. Some drinks were drank and Steaks were Shaked, and
Paul passed out on the floor
.
Friday afternoon Brianne and I departed to go back home, and ate at the KFC Buffet! Chicken Livers! Sweet Tea! Alas, no Choco pudding crunchy stuff, as we just missed the last two portions. So we're almost at Indianapolis and Brianne noticed a
this place
so of course we had to hunt it down and find out exactly
what they are supplying
! We talked to some of the fine folks there, who assisted us, and we were back on the road again... Stopping at Stuckey's for Boiled Peanuts and Taffy. NO PECAN LOG ROLLS. I kid thee not though, we saw
the Girls Gone Wild Filmcrew
. they got some nice shots of us, and we made yet one more stop at a rest area. Upon perusing the vending machine selection, I noticed (Actually I think it was Brianne) that there were Compact Discs in the vending machine! This was a stroke of luck because I had left a few behind at our "deluxe accomodations" So based on the tracklisting went with
a selection by Betty Tetzlaff
. I got a bargain, since she sells the CDs on her website for $10. She's a blind country singer/songwriter that if you have a lick of sense in you, you'll be checking her out. Maybe she can get a gig at the Hideout? Oh wait, it's not over yet: We stopped at a fireworks store in Indiana! It was kind of odd and run by a couple fratties. Brianne bought the Just for Kids Pack and I purchased some sparklers, a "freaky fountain" and some Bumble Bees. We got back and ate with Gina, then tried out the fireworks. The Bumble Bee flew like 20 feet in the air! It's probably illegal, and I only used one out of the like 60 I got. Oh well, Holidays are coming. The sparklers, however, are really crummy and made of paper, not metal, so I threw those away, and have to hope Sooz can get me some on her way home.
Whew.
Sam @ 3:35:00 AM|


---
Thursday, June 30, 2005


Road Trip!

Going to see the Wilco band in Louisville, KY tomorrow. Saw Johnny Dowd at the Hideout Monday. Zzzzzzzz. I'll post something exciting when I get back, really. I have been kind of a slug lately. boo.

Sam @ 2:18:52 AM|


---
Monday, June 27, 2005


Where's Your Hedgehog?
Here's your hedgehog.
okay, weekend recap - DJ-ed at Bad Dog Saturday which was pretty cool, spent money earned at Mama Kitty's for brunch and Lush for me. Sooz decided we should make risotto and in the middle of stirring I realized I had to go see
Adam
at Uncommon Ground, and also enjoyed Algebro. It was a good time, and I was there much later then expected. The risotto (and wine) were waiting for me though.
Sam @ 12:28:45 PM|


---
Saturday, June 25, 2005


Sam @ 1:30:32 AM|


---
Thursday, June 23, 2005


OMG I heart Joanna Newsom!

Finally got to see her last nite, with the Handsome Family opening, what a lovely nite. Until the woman pulled off her prosthetic arm. EEEEEK.

There is a lot going on this weekend, but I know for sure I will be playing some music at the Bad Dog Tavern in Lincoln Square this weekend, woot. Probably going to see that penguin movie too.

Sam @ 11:43:00 AM|


---
Wednesday, June 22, 2005


I have a morbid fascination with Billy Corgan
The full page "message to Chicago" in the Trib and Sun-Times really put me over the edge today. I listened to the new album, and it doesn't really excite me. Oh well, at least I can
read about the first time he saw a nekid lady
. hmmm.
Sam @ 2:38:17 AM|


---
Sam @ 2:28:01 AM|


---
Monday, June 20, 2005


Sam @ 11:51:34 PM|


---
Saturday, June 18, 2005


I have nothing to say really.

just chillin' on a Friday nite, or Saturday morning. i am enjoying some BLACK FOREST GUMMI BEARS. They are more Americanized than Haribo, which are harder and rubberier than these. yes, I'm serious.

Sam @ 2:16:00 AM|


---
Tuesday, June 14, 2005


Insert Charlie and the Chocolate Factory Quote Here
We crashed the Candy Expo today. It was Brianne's brilliant idea. We just regsitered online as buyers and got these lil' badges in the mail. We took a few samples here and there but the fun started when sooz arrived and started grtabbing things we really weren't supposed to have like Star Wars video game cases (filled with M&M's, natch), and Hello Kitty candy prize slot machines and such. At the end, you are allowed a little shopping bag to fill up in a room full of candy whilst candy themed songs like "Candy Girl" by New Edition, "Candy" by Cameo, "How Sweet it Is" by James Taylor. It was like Halloween, but like 9 times better because you didn't have to get a costume and you took only the really awesome stuff you wanted!!
Best Candy: Raspberry Ghiradeli Sqaures, Tropical Nerds Rope, Etch a Sketch on a lollipop, Blow Pops, full size box of Andes Mints, Pez, GUMMI BEARS (HARIBO AND BLACK FOREST!)
Worst "Candy": Kidos Fruit Filled Cookies, Hoop Cake, Tatli Sucuk ("sweet sausage with walnuts", a "natural aphrodisiac".)
Sam @ 10:36:00 PM|


---
candy time!

Had a lovely time Sunday at Danny and Tiffanie's cookout, then Adam and I "chilled" on the sofa and watched copious amounts of telelvision. Worked yesterday... Today Brianne and I (to be joined by Gina and Sooz?) have a secret mission which I will tell you about later if it pans out.

Sam @ 10:45:04 AM|


---
Sunday, June 12, 2005


good gods saturday

'twas an action packed day, starting at the all you can eat pig roast at smoke daddy, drinks at the rainbo, robbie fulks at the midsommarfest, drinks at the gingerman, stephen malkmus at metro, late nite food at mcdonalds, where i saw the funniest thing I have ever seen. this total fratty chad guy fell asleep in his big mac! no joke! like the clamshell box was around his face, and there was a piece of cheese stuck on the side of the box. oh man, it made my day. contemplating going to a cookout now. don't know if i have the energy. :-/

Sam @ 2:39:13 PM|


---
Sam @ 2:54:53 AM|


---