---
CDs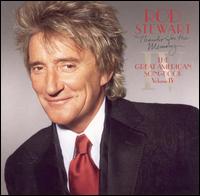 Rod Stewart Great American Songbook 4 $14.99

On this fourth installation of the Clive Davis-produced series, Stewart again makes excellent use of his rolodex: Diana Ross, whose affection for this material comes through as convincingly as her spike-haired partner's, cuddles up for opener "I've Got a Crush On You," Chaka Khan packs her bags but not her mighty vocals for "You Send Me," and Sir Elton shelves the recent balladeer's instincts for a rip-roaring run through "Makin' Whoopee." A handful of marquee instrumentalists also returned Rod's calls-- Dave Koz blows sax on "Nevertheless," and trumpeters Chris Botti and Roy Hargrove turn up the heat on "I Wish You Love" and "My One and Only Love" respectively. As on earlier discs, though, it's when Rod rules the spotlight alone that he can be most compelling: Cue up "My Funny Valentine" in the right frame of mind and you may never need to hear it sung by another. Retiring the satin shirts in favor of this material was the smartest move Stewart ever made. --Tammy La Gorce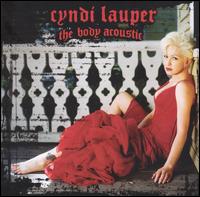 Cyndi Lauper The Body Accoustic $14.99

Cyndi Lauper looks back at her hits on The Body Acoustic, with a number of guests including Adam Lazzara, Shaggy, Sarah McLachlan, Vivian Green, Ani DiFranco, and Jeff Beck. Conceptually, this looks like a disaster. Alanis Morissette did it as well and the results were mixed at best. But Lauper has always possessed a talent that goes beyond the material she has sung -- and she can sing anything. The album is produced by Lauper with Rick Chertoff and William Wittman -- who recorded and mixed the disc. Lauper's band is a wide and varied assortment that includes contemporary jazz bassist Mark Egan. This may be a slanted look at a greatest-hits package, but it comes off as an entirely new album full of adventure, grit, polish, and soul.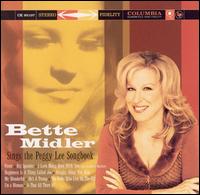 Bette Midler Sings the Peggy Lee Songbook $14.99

Bette Midler and musical director Barry Manilow follow their successful tribute to Rosemary Clooney with a collection of songs immortalized by Peggy Lee. It starts off with the inevitable "Fever," which Midler does in a brassy, finger-snapping way that would feel more at home at the Sands c. 1960 than in a dimly lit 1950s boudoir. It's a deliberate, clever choice that works for Midler. The selection hits predictable bases ("Is That All There Is?", "Big Spender") but it's hard to argue when those bases are so loaded. Midler actually sounds a lot more at ease than on the Clooney disc. She handles the upbeat material as well as could be expected, but she also shines on the slower numbers, delivering sultry takes on "Happiness Is a Thing Called Joe," "I'm a Woman," and "He's a Tramp" (a song copenned by Lee, from the Disney movie Lady and the Tramp). The neglected gem in the collection is Jerome Kern and Oscar Hammerstein II's "The Folks Who Live on the Hill," popularized by Irene Dunne in 1937 before being covered by Lee. Manilow's arrangements are deliciously lush and Midler uses a slight vibrato at carefully chosen moments, somehow sounding as if she had suddenly been lifted back to the 1940s. It's a real treat that epitomizes an accomplished album. --Elisabeth Vincentelli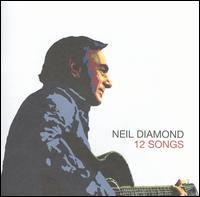 Neil Diamond 12 Songs $15.99

Forget for a moment that you're a sophisticated consumer of music with a mercilessly low tolerance for schlock: Neil Diamond--"Cracklin' Rosie" and "Forever in Blue Jeans" be damned--is going to break your heart. 12 Songs, the hotly anticipated collaboration between Rick Rubin and the formerly jumpsuited Don Juan, exceeds all hopped-up expectations, deflating fans' concerns that their hero might fall flat on the frames of his huge sunglasses in attempting to turn out something hip and harnessing what sounds like decades' worth of untapped, superior songcraft instead. There it is on "Captain of a Shipwreck," a declaration of love that skims the poetic with its promise that "If you're captain of a shipwreck/I'll be first mate to your shame," and around it comes again on "Hell Yeah," a life-affirming, rumor-debunking anthem fairly bursting with bravado (think "I Am...I Said," but with context). Bravado aside, expect no pulled punches here. Rubin's masterful approach is to let Neil Diamond do what Neil Diamond does best, and that is to strap on a loose guitar and let those teflon-ravaged vocals ride over it. Some rides, of course, are smoother than others--Brian Wilson's guest spot on bonus track "Delirious Love" is so melodic and harmony-rich it ought to have sails attached, while "What's It Gonna Be" sounds like something snatched in a pre-dawn lark from a Leonard Cohen disc. All of it is lovely, every last track. A respectful rescripting of the legend, a la the Rubin-aided recasting of Johnny Cash after 2002's American Recordings, is in order. --Tammy La Gorce


---
CD Box Sets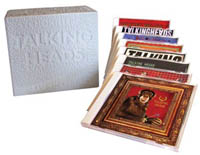 Talking Heads Brick $119.99

Talking Heads' 30th anniversary is commemorated in typically artful style here, sonically upgrading their eight, era-defining albums via bonus-packed Dual Discs and encasing them in a molded white plastic box intricately embossed with the band's song titles. Each disc contains complete album tracks and bonus cuts remastered in High Resolution Stereo on its CD side, while the DVD programming on the flip offers up the audio tracks in expansive new 5.1 Surround Sound mixes, with all of the sonic upgrading personally supervised by Heads drummer Jerry Harrison. Those long overdue audio improvements alone would make it an attractive set, but fans of the band will find its wealth of bonus music (various B-sides and previously unreleased outtakes) and video (including a number of rare live clips seeing their first release here) supplements equally intriguing.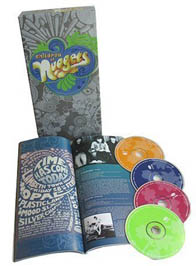 Children of Nuggets $55.99

It would take thousands of dollars (or as many hours in download time) to hoard the most coveted songs from the eighties' top secret power pop bands, garage combos and post-new wave throngs into one collection. Or you can let Rhino Records, which masterfully conspired with writer/musician Lenny Kaye late last century to inflate and repackage Kaye's original Nuggets compilation, do the legwork. These four discs, though chaotically sequenced, scour all sides of the ponds to capture the vitality and innovation of mostly 1980-'85, introducing (or reintroducing) to-be-influential bands like San Francisco's Flamin' Groovies, New York's Raybeats, England's Soft Boys, Australia's the Church and Sweden's Nomads. Where else can you find XTC spin-off Dukes of Stratosphear, the La's "There She Goes" and the Bangles a half-decade prior to their manic Monday, along with the Cramps, the Plimsouls, the db's and the Bevis Frond in a single shebang—and with Rhino's ample, informative, transcendent liner notes, to boot? --Scott Holter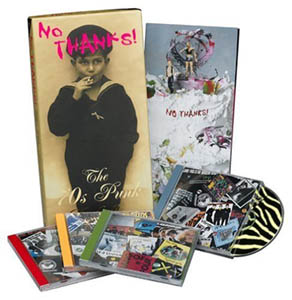 No Thanks! The 70s Punk Rock Rebellion $59.99

The point of box set compilations, like this one, is to provide the listener with an overview of a particular era or type of music. It's impossible to include everything everyone, especially completists would want or even expect. The questions to answer then are "Does this set provide you with a insightful look into 70's punk?" and "When I'm finished listening, have I learned something useful?" The answer is yes, resoundingly. If you were around in the 70's, you will hear and remember some old stuff that you have probably forgotten, and if you weren't around then, you can see how punk morphed into new wave and then devolved into the pop music that often passes as "punk" today. (Devo was right!)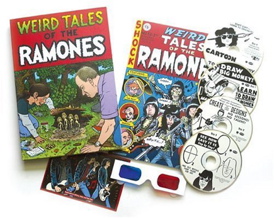 The Ramones:Weird Tales of the Ramones $56.99

This collection smartly recasts the punk pioneers as literal pulp culture icons via its EC Comics-inspired packaging and the brilliantly executed comic book history of the band that accompanies it. Musically, the set's first three discs offer up 85 highlights of the band's recording career, personally compiled by founder/guitarist Johnny Ramone and seasoned with rarities and others. Its accompanying Lifestyles of the Ramones documentary DVD intersperses 14 videos with the often bittersweet recollections of the band and key family members, another bonus six clips round out that history. But it's the dizzying visual eclecticism of the included graphic history that becomes the set's unusual focal point, a loving visual evocation of both their infectious music and shrewd, if willfully low-brow public persona. -- Jerry McCulley


---
DVDs
King Kong Collector's Edition $30.99

Not surprisingly, the eighth wonder of the world's DVD treatment is nothing short of spectacular. The newly restored, digitally mastered print of the 1933 version of King Kong is sharp, well balanced, and given that this film is seventy years old, has very few scratches or blemishes. The restoration is nothing short of amazing.The two documentaries on disc two run over three and half hours long. I Am Kong! The Exploits of Merian C. Cooper is an engaging documentary on the renegade, Hemingway-like director. It is fascinating to learn that Cooper was every bit the adventurer that the fictional director Carl Denham in King Kong was in the film. RKO Production 601: The Making of Kong, Eighth Wonder of the World is a two and a half hour documentary broken into 7 parts.Here you will learn everything you would ever want to know about the making and importance of King Kong, including that the producer/director team of Cooper and Schoedsack played the pilots who shoot Kong off the Empire State Building. The highly anticipated, long-awaited release of King Kong will meet most viewers' expectations, and exceed everyone's else. --Rob Bracco


The Oprah Winfrey Show Twentieth Anniversary Collection $39.99

The Stars. The Stories. The Moments. An unprecedented six-disc collection celebrating the 20th Anniversary of THE OPRAH WINFREY SHOW, one-on-one with Oprah Winfrey herself. See exclusive never-before-seen footage, never-before-heard thoughts and personal revelations, as Oprah takes a candid, open and look back at all the most memorable moments of 20 years of history-making television. Share Oprah's personal perspective on the stories that made headlines, the interviews she'll never forget and more! Plus, go on a personal tour of Oprah's home, watch never-before-seen footage from the beginning years of THE OPRAH WINFREY SHOW and take an exclusive look behind the scenes of A DAY IN THE LIFE OF THE OPRAH WINFREY SHOW! Twenty extraordinary years...from Oprah to you. Oprah Winfrey will donate 100% of Harpo's profits from the sale of this DVD Collection to Oprah's Angel Network.


Office Space Special Edition $16.99

Ever spend eight hours in a "Productivity Bin"? Ever had worries about layoffs? Ever had the urge to demolish a temperamental printer or fax machine? Ever had to endure a smarmy, condescending boss? Then Office Space should hit pretty close to home for you. Peter (Ron Livingston) spends the day doing stupefyingly dull computer work in a cubicle. He goes home to an apartment sparsely furnished by IKEA and Target, then starts for a maddening commute to work again in the morning. His coworkers in the cube farm are an annoying lot, his boss is a snide, patronizing jerk, and his days are consumed with tedium. In desperation, he turns to career hypnotherapy, but when his hypno-induced relaxation takes hold, there's no shutting it off. Layoffs are in the air at his corporation, and with two coworkers (both of whom are slated for the chute) he devises a scheme to skim funds from company accounts. The scheme soon snowballs, however, throwing the three into a panic until the unexpected happens and saves the day. Director Mike Judge has come up with a spot-on look at work in corporate America circa 1999. With well-drawn characters and situations instantly familiar to the white-collar milieu, he captures the joylessness of many a cube denizen's work life to a T. Jennifer Aniston plays Peter's love interest, a waitress at Chotchkie's, a generic beer-and-burger joint à la Chili's, and Diedrich Bader (The Drew Carey Show) has a minor but hilarious turn as Peter's mustached, long-haired, drywall-installin' neighbor.


Wallace & Grommit: Three Amazing Adventures $16.99

Featuring the extraordinary clay animation of their Academy Award winning short films, Wallace & Gromit in Three Amazing Adventures takes the hilarious antics of Wallace, the lovably eccentric inventor, and Gromit, his savvy canine companion, to new heights of fun! •A Grand Day Out Join the ultimate human-canine team as they blast off in a home-made rocket to see if the moon is really made of cheese. •The Wrong Trousers Mild-mannered Wallace and his faithful dog, Gromit, end up in a train-top chase as they try to stop a diamond heist by a diabolical penguin. •A Close Shave The cheese lover and his sidekick investigate the wildest, woolliest sheep rustling yarn ever made of clay. Plus, available for the first time on DVD, Wallace & Gromit In Cracking Contraptions - 10 mini-shorts featuring more of Wallace's zany inventions and the hilarious dilemmas they always create.



Bob Dylan No Direction Home $24.99

This is a four hour documentary on Bob Dylan that ends in 1966. Roughly chronological, using archival footage intercut with recent interviews, a story takes shape of Bob Dylan's (b. 1941) coming of age from 1961 to 1966 as a singer, songwriter, performer, and star. He takes from others: singing styles, chord changes, and rare records. He keeps moving: on stage, around New York City and on tour, from Suze Rotolo to Joan Baez and on, from songs of topical witness to songs of raucous independence, from folk to rock. He drops the past. He refuses, usually with humor and charm, to be simplified, classified, categorized, or finalized: always becoming, we see a shapeshifter on a journey with no direction home.



U2 Vertigo//2005 Live in Chicago Standard: $16.99 Deluxe $25.99

The DVD features 23 electric performances, with songs drawn from across the bands entire career - from first album fan favorites such as "Electric Co," through U2 classics such as "Pride...," "New Years Day" and "Where the Streets Have No Name" and right up to date with "Vertigo" the smash hit that launched this years #1 studio album "How To Dismantle An Atomic Bomb."




---
Fun Stuff


We've got lots of button sets, Napoleon Dynamite, Family Guy, and Simpsons stuff... and more!